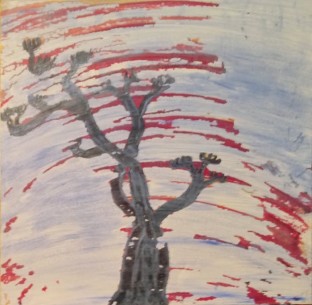 Desert Rose, Aydin Hayri, 2013. Acrylic on laminated particle board. 12" × 12
In the winter of 2013, our family took a driving trip of Morocco. One image stood out from that trip — the desert rose — I do not know whether it is the official or correct name for this plant, but here is how it looks, an ungainly, bulbous stem and sharply narrowing stems and leaves, with unexpectedly beautiful flowers.
What may come across as an ugly duckling is a streamlined plant, surviving in an extreme environment. Due to difficulty of applying paint on a laminated particle board, created this stripped paint look of a sandstorm, showing the desert rose withstanding a sustained attack with grace, presumably to blossom on another day. I think I will keep visiting the desert rose theme, trying different depictions of this long serving, diligent plant.
$120.-